Imperial Rajasthan - end Delhi
Booking Dates
12/29/2022 through 03/10/2023
Travel Dates
12/29/2022 through 03/25/2023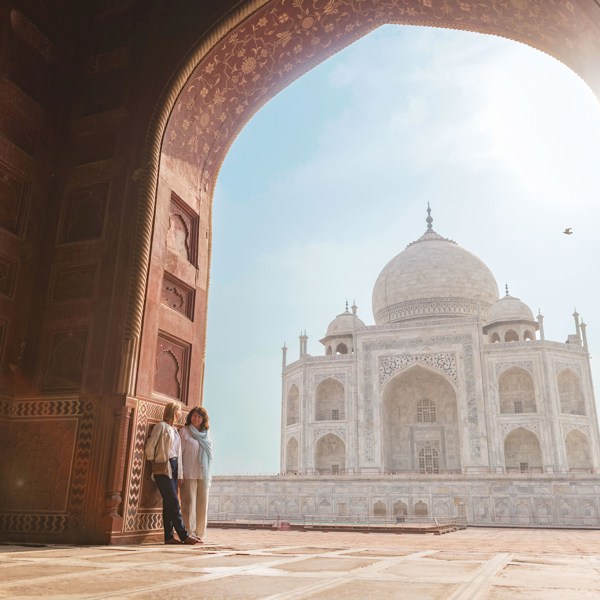 Imperial Rajasthan – End Delhi
Luxuriate in Rajasthan as your dedicated Travelling Concierge charts an adventure across Delhi, Jaipur and Agra. Explore India's capital your way with the choice to tour the UNESCO world Heritage Site at Qutub Minar or treat your taste buds to the Delhi Street Food Tour, joining a well-known local chef for a sojourn through the famous street snacks of the old city. In Jaipur, the VIP Afternoon Tea experience unlocks the private living room of the Maharaja with an indulgent menu served alongside the crystal table of artisan—René Lalique. At sunrise, see the iconic Taj Mahal emerge from the dusk before journeying to Udaipur, known as the City of Lakes.


Dining Summary
9 Dinner (D)
12 Breakfast (B)
7 Lunch (L)
1 Afternoon Tea (AT)
Choice Highlights
Choose between two carefully selected activities
Delhi: Join a well-known chef for a culinary exploration of Delhi streets where you will tantalise your taste buds. Experience a wide variety of foods and learn the effect that mixing different flavours has on the palate as you sample Indian delicacies from local stallholders.
Delhi: Visit the 12th century Qutub Minar, and see the tallest brick minaret in the world before enjoying lunch.
Choose between two carefully selected activities
Agra: Meet the community living in the shadow of the Taj Mahal when you take a Mughal Heritage Walk. Discover hidden gems of the area and learn about daily life in the ancient village with impressive vistas of India's most famous monument. Through this initiative the community is supported from tourism to improve their living conditions.
Agra: Visit a private colonial bungalow for high tea, meet the host family and listen to their stories about the British Raj and today's Indian culture and society.
Choose between two carefully selected activities
Jaipur: Visit the colourful cavalcade of the fresh flower and spice market.
Jaipur: Visit the white marble Birla Mandir, a Hindu temple and witness aarti, a traditional prayer ceremony.
Choose between two carefully selected activities
Lake Pichola: Cruise the serene waters of Lake Pichola and relax as you take in the city views from the water.
Udaipur: Explore the colourful bazaar in the old city.
Additional Included Highlights
: You will be escorted by one of our fine Travel Concierges, handpicked to serve as your expert guide, consummate organiser, and friend overseas. See booking conditions for exemptions.
: Personal radio headsets give you the freedom to wander during visits to famous highlights, without missing any of your Local Expert's fascinating commentary, available on departures with 15 or more guests.
: At every hotel, you'll be treated to seamless baggage handling, with prompt delivery inside your room.
: Hotel and restaurant tips are included – you'll never have to worry about how much to give, nor search for foreign currency. We also include all taxes and porterage charges at hotels.
: Stay connected with friends and family with hotel Wi-Fi (where available).
: Complimentary, private airport transfers are included on start and end dates and when additional accommodation has been booked through Luxury Gold. Guests will be transferred with fellow Luxury Gold Travellers that arrive on the same flight. Complimentary, private train station transfers are included when train travel is included within the itinerary. Transfers to train stations or alternate hotels, in the same start or end city of the itinerary, may be requested but are not guaranteed.
Exceptional Dining
Delhi: Regularly rated as one of India's very finest restaurants, The Spice Route is a feast for all your senses, from the elegant design to the aromatic journey that each dish brings. Admire the incredible artwork from across Southeast Asia as you dine.
Jaisalmer: Experience a truly unique dinner as the sun sets over the Sand Dunes. A sumptuous nomadic banquet is served under the desert stars as local musicians play traditional tunes into the gentle breeze of the night.
Udaipur: Sit down to your indulgent Celebration Dinner in the stunning restaurant of your hotel, which overlooks the beautiful outer courtyard and lake. Dine on a delicious banquet of Indian cuisine as you reflect on your unforgettable time in India.
Founder's Collection
Delhi: If you are travelling on a Founder's Collection departure, on Day 2 historian and journalist Rana Safvi invites you to an intimate dinner at Sana-Di-Ge to learn about her studies of Indian culture and how they relate to present day life in India.
Journey Highlights
: Truly experience India by travelling during one of its famed festivals. On select departures in spring, experience the ancient Hindu celebration of Holi, known for its colorful parades.
: Truly experience India by travelling during one of its famed festivals. On select departures, in the fall you can experience Diwali, which means "row of lights" and is honored by all Indians, regardless of faith.
Delhi: View the monuments of Old and New Delhi when you drive out to Red Fort, the former home of the Mughal emperors. Cruise down the Rajpath to see India Gate and Parliament House.
Delhi: Take a tour of Jama Masjid with your Travel Concierge. Feel the majesty of the largest mosque in India with its three great gates, 40-metre-high minarets, and a courtyard large enough for 25,000 devotees.
Delhi: Jump into the hustle and bustle of Old Delhi by taking an exhilarating rickshaw ride through the busy streets of Chandni Chowk. Let the city's sights and sounds swirl around you as you're transported in traditional style.
Delhi: Visit a Sikh temple and community kitchen, where …

| Day | Description | View All |
| --- | --- | --- |
| Day 1 | Delhi, a Rich Melting Pot of Old and New. | Details |
| Day 2 | Delhi Sightseeing. | Details |
| Day 3 | Agra and the views of the Taj Mahal. | Details |
| Day 4 | Sunrise at the Taj and Jaipur, the Pink City. | Details |
| Day 5 | Jaipur Sightseeing. Relaxed Start | Details |
| Day 6 | Exploring Khismar. | Details |
| Day 7 | The Sun City, Jaisalmer. Relaxed Start | Details |
| Day 8 | Jaisalmer Sightseeing. Relaxed Start | Details |
| Day 9 | The Blue City of Jodhpur. Relaxed Start | Details |
| Day 10 | Explore Mehrangarh Fort. Relaxed Start | Details |
| Day 11 | Udaipur, Venice of the East. | Details |
| Day 12 | Udaipur Sightseeing. Relaxed Start | Details |
| Day 13 | Depart Udaipur, Fly to Delhi. | Details |